Self Managed Smart Safe Solution
For retailers that desire a greater flexibility in how they manage their cash as compared to the full service solution, they can leverage our equipment and services to create a self managed program.
In a self-managed program, the retailer arranges to transport their cash to a bank themselves.  They purchase equipment with the goals of:
Reduce time to prepare the deposit
Keep track of their funds as they receive them
Protect cash in their stores from robbery
Limit employee access to their cash
Click the diagram below to learn more about the self managed cash experience.
Self Managed Cash Cycle
For those businesses who prefer to manage their own cash rather than adopt a full service armored car solution, there are many options available to save time, improve cash visibility, and prevent theft.
Validation in Store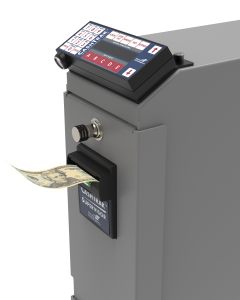 Validation and protection of cash within the merchant store can be done with a variety of compact smart safe products optimized for self-managed cash.
For merchants that want end-to-end accountability of their cash while they are both in store and in transit to the bank or home, we have a smart transport bag featuring an onboard mobile security system.
In Transit
Cash is most vulnerable to theft while it is in transit. While moving cash between stores or from a store to a bank, we offer a line of smart transport bags to offer protection, monitoring, and even onboard cash automatic validation.
fobID™
Merchants are assigned unique fobIDs™ that is their credential for operating instore equipment and establishes their custody of the smart transport bag when used to transport funds between locations.
Bank Branch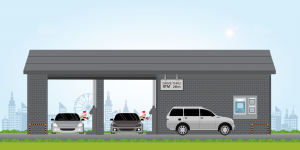 Merchants take their cash deposits periodically to a nearby bank branch to place in their accounts.  When using cash automation equipment, it is possible to arrange for advanced credit on the funds deposited while still at the store.  Advanced, or provisional credit, allows for fewer trips to the bank and less time spent managing cash.
Change Order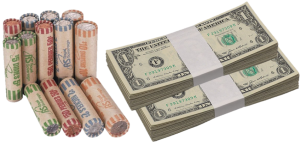 Merchants pickup change orders in the form of rolled coin and small denomination bill straps from the bank branch to take back with them to their stores.